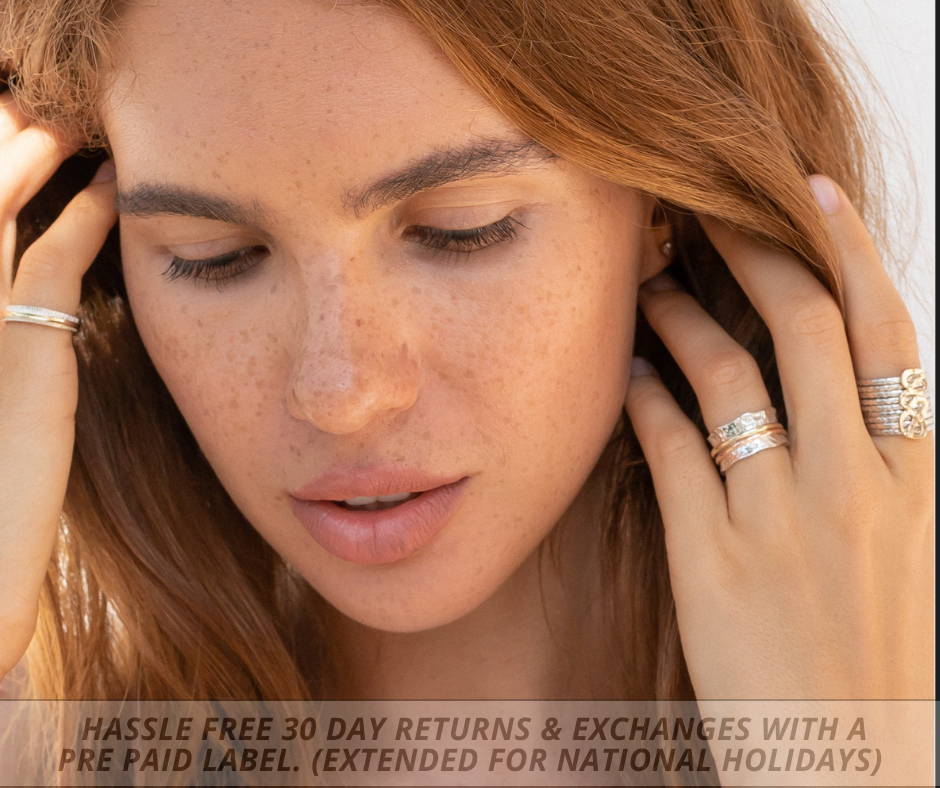 About MeditationRings & Post Sales Information
WHAT IS A MEDITATIONRING?
The MeditationRing is based on the ancient Tibetan Prayer Wheels. The Prayer Wheel plays a very important role in Tibetan Buddhist tradition. The practice of turning the Prayer Wheel, or even wearing or having in one's home, is said to be of immeasurable benefit for oneself and others. Buddhist teachers and the ancient texts explain the profound benefits of the Prayer Wheel for its power to quickly harmonize the environment, enhance compassion, encourage a peaceful state of mind, and assist practitioners on their journeys to enlightenment.
These incredible MeditationRings have one or several outer bands that physically spin around the actual ring they are said to bring good luck & fortune, and a sense of serenity and peace, and rid the wearer of anxiety and worry. These rings are also referred to as worry rings, or spinner rings.
Aside from there spiritual properties these rings are extremely stylish and sophisticated. They come in a variety of styles and looks so that each person can find the one that truly fits their personality and style. These rings also make the perfect gift for a loved one as they are trendy and fashionable yet spiritual and meaningful. These rings are also often worn as engagement rings and are popular among both men and women of all ages.
Browse our MeditationRings Collection.
Do MeditationRings or silver spinner rings reduce stress?
A relatively recent concept in jewelry is that of the spinner ring. Silver spinner rings are designed in such a way that the middle portion of the band spins freely on the part that encircles the ring finger. It has been shown that wearing and using silver spinner rings can significantly reduce the levels of tension and anxiety in a stressful situation. Playing with the moving portion of the ring band gives the hands something to do and the repetitive motion helps to soothe and calm the mind. For those who use something to focus their thoughts before meditation, the rings provide a helpful tool.
Overview
Silver spinner rings are made of the finest quality jewelry grade silver. The designs on the spinning portion of the ring are numerous. Standard designs can include braiding, ropes, twisted braids, Celtic braids or knots as well as a brick or tile design. Spinner rings can also be smooth with no engraved patterns on the surface. Some ring designs features words either with a message to help in calming or as a reminder of something important in your life. Symbols on the rings run the gamut from dice to elephants to astrological and Christian symbols.
Composition
Many spinner rings are constructed of silver, not only because of its beauty, but because it is more likely to withstand the wear and rubbing than softer metals such as gold. Silver spinner rings are a thing of beauty and many people who see them do not realize that they have a dual purpose. For the spinner rings to be most effective, they must slide smoothly on the outer portion of the ring. If there is not a smooth spin, the wearer will be seen as tugging or twisting the ring rather than spinning the center portion only.
Meditation
For those who practice the art of meditation, using silver spinner rings can be a very helpful tool. The moving portion of the ring helps to focus the mind while the fingers are also occupied in spinning the center band of the ring. As a tool, with training the wearer can simply sit quietly and focus of the words or symbols found on the face of the spinning band. Other sounds and activity can be tuned out so that a sense of calmness and serenity result. Because the ring is always with you, meditation techniques can be practiced anywhere you find yourself.
Stress Relief
At a somewhat different level, silver spinner rings can be used to provide stress relief. Because focusing on the moving symbols keeps the brain occupied, the mind is less able to go ricocheting off in a hundred different directions. Before snapping at a co worker or a child, a few seconds using the spinner ring will allow you to collect your thoughts and make a wise response rather than one that will escalate your stress. Repetitive hand and eye movements can be very soothing both to the ring wearer and to those observing the body language of the wearer.
Article Source: View here
How do I know my ring size?
If you do not know your ring size, you may want to pay a visit to your local jeweler and have your ring size checked. If your ring is measured as a half size, then you may want to purchase the ring in a larger size and take it to a jeweller and they can insert a removable ring guard.
Where can I find a retailer?
What happens if my ring doesn't fit?
No problem, we strive to make exchanges as hassle free as possible! Fill out the return form provided in your package and send it back to us using the prepaid label that will be included in your package. MeditationRings will cover your first exchange! If you still need to exchange a second time shipping charges will occur.
What is your return/refund policy?
Your satisfaction is our top priority therefore, if you are not satisfied with your purchase for any reason, you can return it for a refund and/or exchange within 30 days of receiving your order. Please note returns must be unworn, and have no signs of wear or damage and must include the original tags and packaging.
Please email us at inquiries@MeditationRings.com (Include your order # and whether you are exchanging or returning you item.) Then simply fill out the Return Form form provided in your package and place it in the package along with the item(s) you are sending back to us. Lastly attach your prepaid label onto the package & drop it off at the appropriate carrier.
Please note all international packages will not include a prepaid label and return shipping will not be covered by MeditationRings.
Please note: ANY returns sent to us without prior notification or returned past the 30 days may be refused.
How do I care for my MeditationRing?
Not only is spinning your MeditationRing very relaxing and soothing but the good news is MeditationRings are also very easy to care for!
Wearing your MeditationRing often is one of the best ways to prevent tarnishing, but overtime air pollutants, dust, perspiration, perfumes, and other natural elements can dull the lustre of metals and gemstones.
To best maintain your MeditationRing is to follow the product care guidelines:
o Refrain from using hand sanitizer while your MeditationRing is on.
o To avoid tarnishing and discoloration, remove jewelry before bathing or swimming, or immersing in any water.
o Never clean your MeditationRing with silver jewelry cleanser or cleaning solutions with abrasives or ammonia, as harsh chemicals will remove any blackened/oxidized finish.
o To remove oils and dirt, wipe your jewelry with a clean, soft cloth before returning it to storage.
o To avoid tarnishing and scratching, store your MeditationRing in the satin pouch provided or a bag when not wearing.
o Store jewelry in a cool, dry place.
All MeditationRings come with a one year manufacture's warranty, as long as you have your Proof of purchase. That means at any point you can send a product back to be repaired. While In most cases there is no charge for this service, occasionally there might
be a charge for extensive damage or for missing components; i.e missing bands from the ring.
Who do I contact for my Jewelry repair/Warranty?
For all repair inquiries, please email inquiries@MeditationRings.com with the subject header 'REPAIR' or call us toll-free at 1.844.SPINWISH or 905. 882.8595 and we will be happy to assist you.
ALL MeditationRings include a 1 year manufacturers defect warranty. Stone/stones missing and/or bands split or missing after 90 days are not covered under this manufacturers warranty and may have a cost to repair.
Please note that shipping costs are non-refundable and that customers are responsible for any shipping costs for repairs.
For your security, please purchase shipping insurance and use a trackable shipping service. MeditationRings cannot guarantee that we will receive returned items. Be sure to retain both your proof of purchase and shipping receipts for all returns.
Does my MeditationRing come with any wrapping or gift box?
Yes. MeditationRings offers a complimentary MeditationRings tin with every ring purchase as well as a complimentary travel pouch. If you wish to order an extra MeditationRings Tin, they are available on our website for $5.99/each.
What methods of payment do you accept?
MeditationRings accepts Visa, MasterCard, AmericanExpress and PayPal. You can now also use Paybright and split your payments!
What taxes are charged on my order?
Sales tax is charged only on orders shipped within Canada. Rates depend on the province the order is shipped to. There is no sales tax on US or International orders.
How do I know that my order has been received?
No worries. You will receive a confirmation email once your order has been received. If you don't receive any confirmation email, please contact us using the online contact form and we will get back to you shortly.
I have made a mistake or want to change my order. What should I do?
We've got you covered! If you need to change or cancel an order, contact us immediately using the online form or give us a call at 1.844.SPINWISH or 905 882-8595 . If your order has not been shipped yet, we will gladly change it. Please note that your order will not be cancelled until you have received a confirmation about it.
Can I special order a MeditationRing in 14 KT solid gold or diamonds?
We can customize your MeditationRing in White, Yellow or Rose 14KT solid gold depending on the style, please note custom orders take approximately 5 weeks.
To inquire and receive a quote please email inquiries@MeditationRings or fill out the Contact Us form. Please also keep in mind custom orders are not exchangeable or returnable.
What is the shipping policy?
Please expect some shipping delays with shipping carriers due to Covid-19
For Canadian Customers:
At time of check out there will be options as to which shipping method you would like. These are the following shipping methods:
Canada Post Standard: $13.99 (with tracking)
UPS Standard: $19.99 (with tracking)
For U.S. Customers:
At time of check out there will be options as to which shipping method you would like. These are the following shipping methods:
UPS Standard (4-5 Business days): $18.99
UPS 3 day Select (2-3 Business Days): $20.99
UPS Express Saver – (next business day): $22.99
*Delivery time does not include time delays due to customs, and cannot be guaranteed by MeditationRings. All shipping options are not guaranteed as some items may not be in stock and there can be delays caused by couriers that MeditationRings cannot control. 
If there is a delay on your order for any reason, you will receive an email from MeditationRings. Please note that if you are located in the USA the courier we use is UPS, UPS does NOT ship to PO BOXES, please provide an alternate address or we will have to ship with Canada Post.*
International Customers (for customers outside of Canada & the U.S.):


Standard Shipping: $29.99
UPS Shipping: $39.99)
Customs: Please note that merchandise exported out of the country to another country must clear customs and the recipient of the merchandise may have to pay duties on the item(s).
How long will my order take to be delivered?
Please allow approximately 2-3 business days for your order to be processed and 5 - 10 business days for delivery. When the item is shipped, you will receive a confirmation with your order details and a tracking number.
How can I track or check the status of my order?
We know that you are looking forward to receiving your amazing MeditationRing! A tracking number will be given to all items once it's shipped. You will be able to track the items using the tracking information.
Is express shipping guaranteed?
Please note that MeditationRings is not responsible for any packages being late due to courier issues, weather delays or transportation delays during the holidays season and/or all year round.