---
---
New MeditationRings size 5 - 11 available now!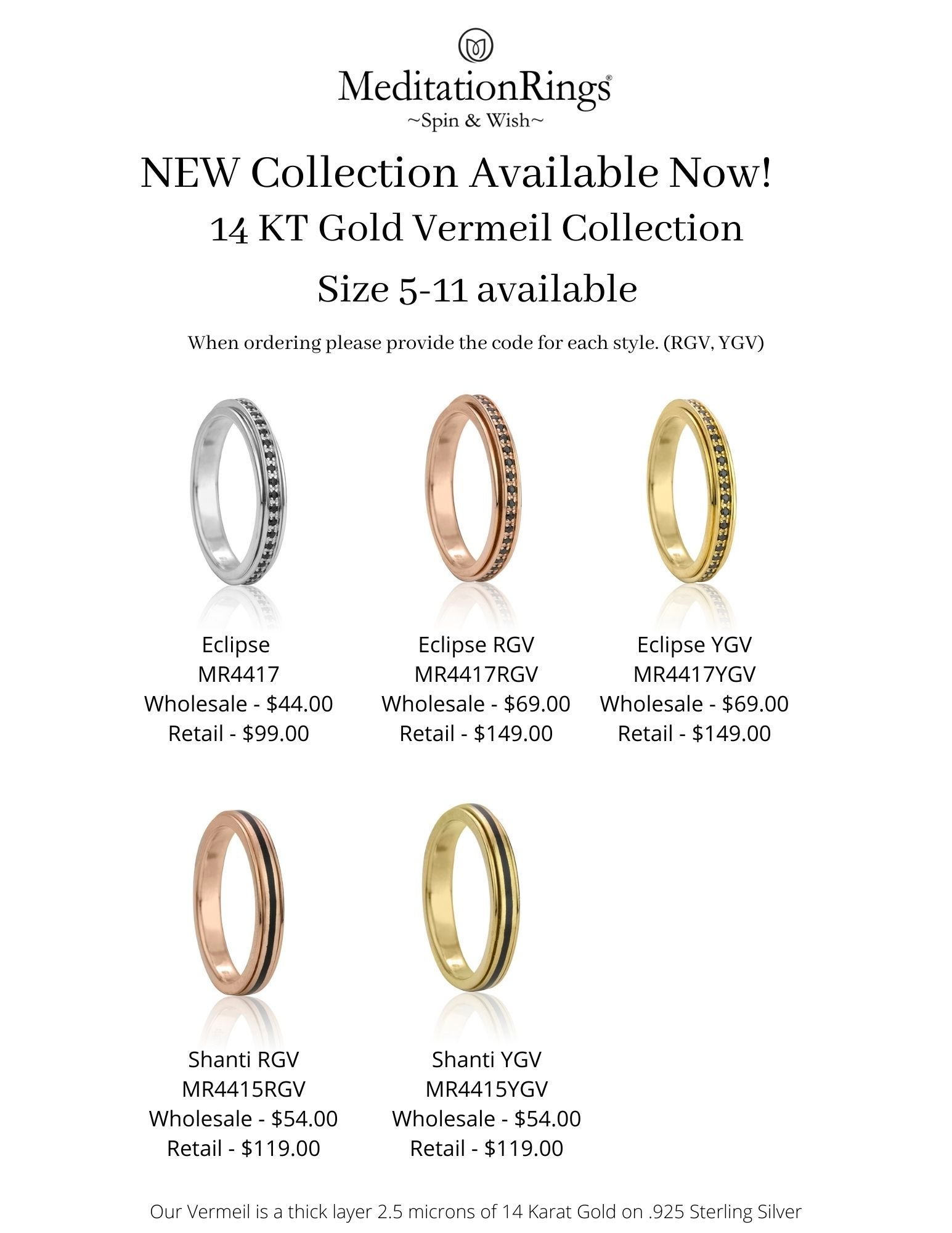 Please Note: All Authorized Dealers of MeditationRings should have our new logo on their website and/or anywhere MeditationRings is presented. If you do not have our new LOGO please see the "Media" tab above, where you can download it. As well as, anywhere our brand is written, it should be written as follows "MeditationRings" (One word)
Welcome to MeditationRings!
Below you will find multiple pre - pack options for your first order, although customizations can be made. Complimentary with your prepack you will receive a beautiful acrylic display unit with a cover, a branded photo easel card, and high resolution digital images for your social media profile. In addition you will also receive a brochure holder, brochures and our custom satin pouches with our logo. If you would like to add any of our packaging please see the order forms under the Documents tab. This wholesale portal is where you can find everything you will need to be a successful MeditationRings Authorized Dealer.
| | | |
| --- | --- | --- |
| Pre - Pack Option 1 | Pre - Pack Option 2 | Pre - Pack Option 3 (Recommended) |
| | | |
Please keep in mind these pre-pack options are just suggestions and can be altered or customized to suit your needs.
Please feel free to fax or email your order to us at sales@meditationrings.com or 905. 707. 0274
Let us help you!
Below you will find several links to photos and videos that can be used for your website, social media, advertisements etc.
Please Note: All MeditationRings Authorized Dealers that have our brand on their website should
have our updated logo and ring photos. Please see Ring Images and logo button below for reference.
If you would like us to create an advertisment for you please use the form below to email us and we will be happy to assist you.
Please also use the contact form below to contact us regarding sponsored posts on social media. For a charge of $10.00/per post we will
              do a paid targeted sponsorship post onto our Instagram mentioning your store, location and tagging your store instagram account.
MeditationRings is not charging you for this service, the fee goes to pay for the targeted sponsorship.
Thank you for your inquiry! We will get back to you shortly.
This field is required
This field is required
This field is required
This field is required
| | |
| --- | --- |
| All MeditationRings documents have been updated for September 2019 | If you have any questions please email us at Inquiries@MeditationRings.com |
| | |
| | |
| | |
We will be holding contests & giveaways for our retailers.  
Please check this tab to keep updated on our latest contests & giveaways and how to participate.
---
#spinandwish
The WINNER is our retailer King's Jewelry in Plymouth, Indiana!
The prize will be a complimentary Lunar MeditationRing to use for your own giveaway/contest in-store and/or online. We believe that staying active online and on social media helps encourage sales as well as encourages brand and retailer awareness.
When you have chosen your own winner you can provide us with their information and we will ship the free Lunar to your store or directly to your customer if you request it.
We would like to thank you to everyone who participated!
Feel free to contact us at Connect@MeditationRings.com if you have any questions and/or concerns.
Tips on how to be a successful MeditationRings Authorized Dealer
---
Have our brand on your website followed by our updated ring images and logo. (Can be found on our wholesale portal)

Have MeditationRings written as one word anywhere our brand is represented

Be active on social media! Posting on Instagram and Facebook consistently (Social Media images can be found under our Media Tab)

Take part in our promotions! Promotions are the perfect way to give customers an incentive as well as encourage sales.

Use our packaging, potential customers are starting to recognize our brand through our packaging.

Hold contests & giveaways on social media! (Take part in our wholesale contest for a chance to win a free Lunar MeditationRing for       use in a giveaway.
Mother's Day Promotion – 2021
Although promotions are optional we strongly encourage retailers to take advantage of the authorized promotions that we run throughout the year as they promote sales and interest. MeditationRings does not allow independent sales throughout the year other than ones authorized and run by MeditationRings.
It's promotion time. Let's get ready for Mother's Day!
The Promotion for Mother's Day 2021 will allow retailers to give their customers a
FREE Prana MeditationRing with every order of $199 and up.
We will provide retailers that would like to participate in the promotion the opportunity to purchase our Prana MeditationRing at a discounted rate in sets
(sizes 6-9 only). Starting March 26th, 2021 – April 9th, 2021
Promotion will run from April 16th, 2021 – May 9th, 2021 online and/or in-store
---
" I have had the pleasure of working with this wonderful company for the past 2 years, carrying their BEAUTIFUL rings in my boutique. My customers absolutley love the exquisite craftsmanship & unique designs of the MeditationRings, as well as the positive spiritual element they promote. So many beautiful styles to choose from! Naomi, Yvette & the entire staff at MeditationRings are an absolute pleasure to work with!"
- Jewels By Jilly, Jill
---
" MeditationRings have been by far one of our store's most popular items. Since we started carrying them, we have placed orders nearly every week just to keep them in stock. We have found that they make great gifts but are also a perfect self-purchase for many of our customers. We have been impressed with the quality which is very important to us as we stand behind all of our products that we carry."
- Miller's Jewelry, Brooke Nohner
" MeditationRings have been greatly received by our clients since the day we started carrying the collections over 5 years ago. The rings and the meaning behind them connect with almost anyone instantly, Our customers love the selection and we are very happy with how the brand has grown over the years. We're confident MeditationRings will continue to be a fan favourite in our stores and we look forward to keep growing with this amazing company!"
- Graziella Fine Jewellery, Deeb Basmaji
---
" We have carried MeditationRings for over two years. The rings are of great quality, unique and truly inspire the wearer. They have become increasingly popular with our customers, and we are constantly adding new stock. "
- Joydrop, Victoria Kinvig